For others who have/want to have a .58 caliber ML and shoot conicals....
My dad made a present out of an Investarms Hawken .58 (15/16 barrel). The rifle is in great shape, but getting into the .58 game has been tough. I have gotten lots of great advice from Lewis and others in the forum so far! This is a great resource for being new to muzzleloading.[url=https://servimg.com/view/20404086/2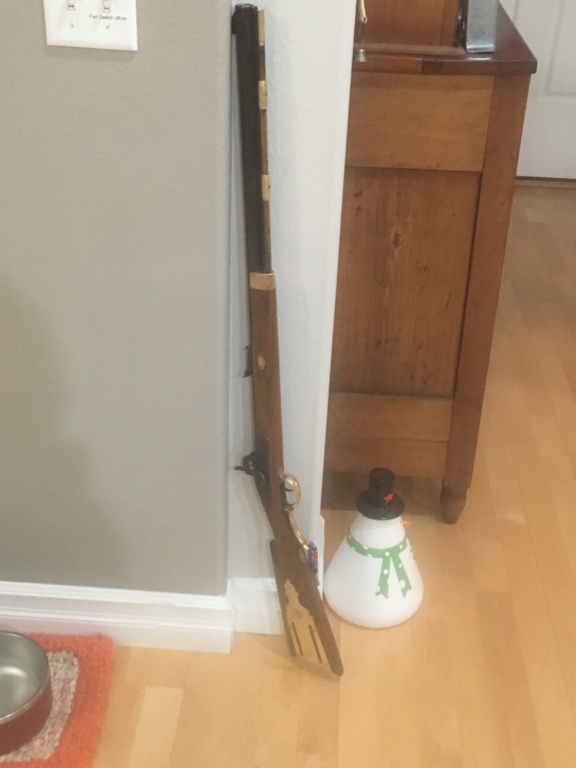 [/url]
This is the .58. I liken it to building a wildcat rifle, or Big block engine. Everything seems like it has to be custom. If this was a .50 or .54 I'd just order the No Excuses starter kit that includes a progressive array of sized bullets that can be used to determine proper bullet/bore size. Hunting bullets can be simply purchased from there. With the .58 the bore must be measured (somewhat precisely) in order to get the sizing die and mold necesary to follow the loading methods Lewis demonstrates. Unless you own a machine shop, measurement tools for this task are prohibitively expensive. What I've found is that there is a cheaper way!
Bought these guys individually on Amazon. ~$6 ea. That makes an accurate measurement for$35! A taper gauge set was~$175, full pin gauge set @ $200, etc. most options for a one time measurement were not reasonable. Then there's chamber cast, or slug methods that give you great measurements of the grooves, but for this we are looking for land I.D.. so here is a pic of the .582 pin gauge in my rifle
The .582 fit snugly, .583 did not go in. I'm calling my bore (top of lands) at .582. This is the bullet I'm planning to use a 58 cal version of Lewis's .54 I bullet.
Judging by Lewis's success with the 1:48 .54 cal. I'm betting this bullet winds up about 650 grains and able to stabilize in the .58 1:48 also.  Wish me luck now. I'm ordering molds this week!

McLoader




Posts

: 34


Join date

: 2021-12-20



Bad Karma likes this post

Ivan Wagurak




Posts

: 199


Join date

: 2021-12-01


Age

: 45


Location

: Maine



I always did like the 58's but they're extremely rare around these part, but that sure is pretty

Ivan Wagurak




Posts

: 199


Join date

: 2021-12-01


Age

: 45


Location

: Maine



Thanks Ivan. It's been a learning experience but I think we're almost shooting now!!

McLoader




Posts

: 34


Join date

: 2021-12-20



You're welcome!

Ivan Wagurak




Posts

: 199


Join date

: 2021-12-01


Age

: 45


Location

: Maine



I hope there will be some hunting videos with that rifle later this year.

George_Kelley




Posts

: 191


Join date

: 2021-11-29


Age

: 56


Location

: Murphy, Idaho



Ivan Wagurak likes this post
McLoader your bore is actually .583"  Trust me. I worked in using measuring tools almost all my life.  You cannot get a .583 pin in a .583 hole! At least not without a hammer. I know it will surprise you but its a fact.  A .582 or maybe even a .5825 pin will go in but not a .583.

Bronko22000




Posts

: 373


Join date

: 2022-01-20


Age

: 70


Location

: Locust Gap, PA



You are correct in what you are saying on reading the pin .583. I agree with you. The cast/sized bullet diameter I'm looking for based on previous advice is likely .584 -585 . Which is bore + 0.002 so I'm ordering the mold at .584 -0.00/+0.002. This way I can size to 0.584 and get a snug fit for hunting. It may be best to order .585-0.000/+0.002 thinking about it. That may guarantee that the bullet always gets sized. Thanks Bronko.

McLoader




Posts

: 34


Join date

: 2021-12-20



McLoader,

So determining a smoothbore slug size is different than if rifled? I slugged a gun recently wit the kit from No Excuses, but it was rifled. Glad I did as I was surprised what a slight difference can make.


Big Sky Bryan




Posts

: 53


Join date

: 2022-02-01


Location

: Montana



Not following you there Bryan,

The method you used would be my preference to use, because you get to KNOW how a specific sized bullet will fit your rifle. There's more than one way to skin a cat, so my gun is also rifled however no one produces a kit of .001" increment sized bullets, so I'm working with steel standard pin gauges rather than sized bullets. This is because as far as I can tell, most .58 shooters just use PRB or miniball. For me neither is really a good option for how/where I hunt. So if I'm going to shoot conicals I'm using steel gauges to help me get proper dimensions to order a mold AND a sizing die. Mold is about $300 and sizing die is probably $100 per pop so I need to get close as possible. My analogy is that you get to go to the restaraunt and order Eggs Benedict. The .58 makes me go to the farm store and buy the chickens and feed with the hope of one day sitting down at the table.

McLoader




Posts

: 34


Join date

: 2021-12-20



Big Sky Bryan likes this post
---
Permissions in this forum:
You
cannot
reply to topics in this forum