I just want to relate 2 really short hunts I've had in the past. The first on was for black bear.  I left my cabin just before daybreak to get to my favorite spot.  It is all up hill and the last 30 yards or so are very steep, much steeper than the rest. Some of you know what I mean. You just about scrap your nose walking up it.  But after that 30 yards the is a "bench" that opens up to a fairly large bowl. When I got to the steep part I stopped for about 5 mins to catch my breath and I was going to ease up the last  bit to see if anything was in the bowl.  When I got close to the bench I bent over and almost crawled the last couple yards.  When I though I was high enough I slowly stood up and looked around.  About 40-50 yards away was a black "stump" behind a tree.  I thought to myself - I never saw that stump before.  I stared at it for a while and saw the unmistakable round ear of a bear sticking out the other side of the tree.  "BEAR" I though to myself.  I raised my Marlin Guide gun and lined up the iron sights as close to the tree as possible, cocked the hammer and let the 45-70 bark.  The bear took off across the bench and fell over dead before I could get on him again for a second shot.  He was a 259 lb field dressed bore.

Second one was even quicker: One morning during archery season I woke up to a rainy day so I decided to climb back into bed. (Not unusual when you're retired and have all season to hunt). Waking up a bit earlier and doing some chores around the house it stopped raining about 12:30 so I decided to get dressed and head out to one of my stands. I don't live far from where I hunt and the stand I decided on was only about 300 yards from the highway. Anyway I was in my stand by 1:00. I waited for a bit for things to calm down and as it was about the 3rd week in October I pulled my rattle bag and grunt call. I left out a couple grunts then started rattling the bag "bones" giving occasional grunts. I did this for about 45 seconds to 1 min.
No sooner had I stopped I looked to my right and saw a nice buck heading toward me off the ridge. He was coming fast and had his ears back. I grabbed my bow and waited for a shot. He stopped 30 yards away behind some brush and was looking intently for the 2 buck that were fighting in his territory. I didn't think he was ever going to come in. He stood there for a full 15 mins and finally walked into an opening standing broadside at 25 yards. I drew back and sent a Rage into his boiler room. He spun around and disappeared into the laurel. I looked at my watch and it was 1:45!
After a short blood trail I found him stone dead. He was the 2nd biggest buck I ever shot. A heavy 21" spread seven point probably past his prime.

_________________
I am not in competition with anyone and have no desire to be better than anyone else. I simply try to be a better person today than I was yesterday.
PRAYER SHOULD BE YOUR FIRST RESPONSE - NOT YOUR LAST RESORT.
Women and cats will do as they please, and men and dogs should relax and get used to the idea.
My therapist asked me if other members of my family suffer from mental health. I told him "No we all seem to enjoy it!"

Bronko22000




Posts

: 372


Join date

: 2022-01-20


Age

: 69


Location

: Locust Gap, PA



stikshooter, HC, Ivan Wagurak, 188mule, Kurt, Shorty and Ironhead like this post
I'll keep my story a little shorter as I only had an hour to hunt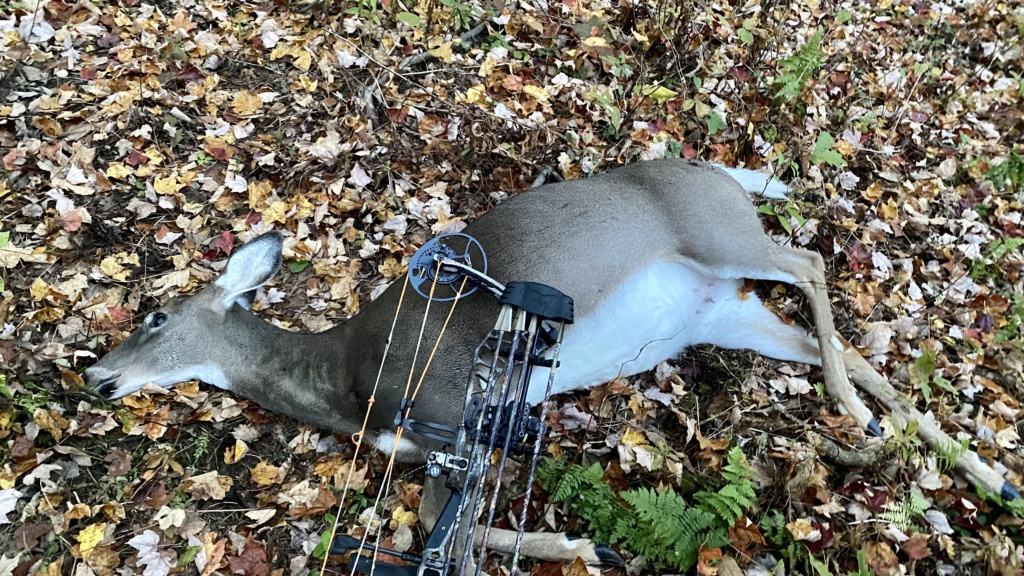 . I got a saddle stand and set up in an area that I had been watching. Only had an hour left of legal light left. This nice doe came strolling in right at sunset, pretty steep quartering to but that's why I shoot so much in the off season. She walked to with in 20 yards I drew and shot! I heard a crick sound and thought it was odd sounding. She barley flinched when my arrow hit her she trotted 20 yards behind me and layers down only to expire 20 seconds later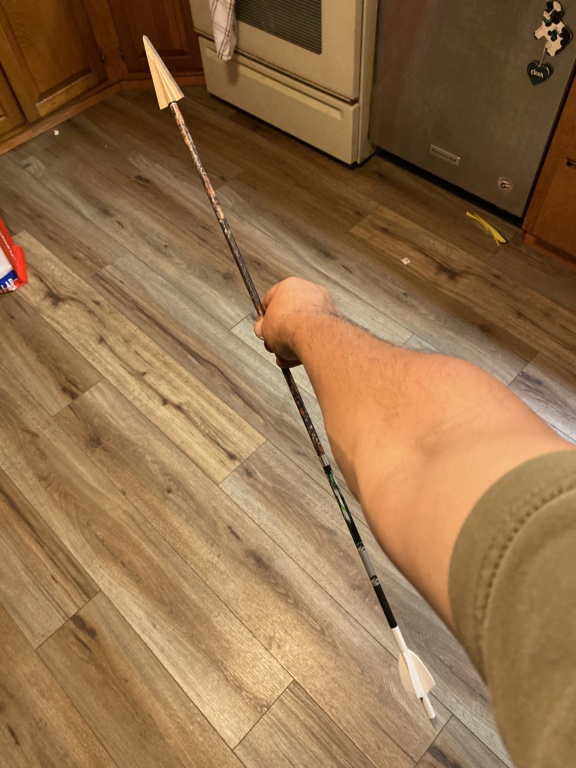 my butcher said the leg bones on the exit side look like a grenade went off and had exploded the leg bones. This arrow is 750gr my all purpose arrows the broad head weighs 350gr alone
. My farthest shot in the woods where I hunt is 40 yards so I'm not too worried about the range aspect. I target shoot 80 with this setup. Most shots with my bow are 20 yards +- I almost forgot she weighed 108 on the butchers hook dressed out

Ivan Wagurak




Posts

: 199


Join date

: 2021-12-01


Age

: 45


Location

: Maine



188mule, Kurt and Shorty like this post

Ivan Wagurak




Posts

: 199


Join date

: 2021-12-01


Age

: 45


Location

: Maine



Kurt and Shorty like this post
---
Permissions in this forum:
You
cannot
reply to topics in this forum