Took my Hoyt .45 cal 1:20 rebarrel out again today to try some 340 gr I-bullets Ed sent me and some other bullets I cast. I can't argue with the results. First target is at 50 yards. Target included some 22 LR hold from my new Bergara at 50 yards. The bullets low left are the 340 gr I bullets. Three shot right about 1" with a called pulled shot.
Second target is at 100 yards with 3 shots at 1.25". The single lower bullet is my 355 gr RNFP bullet. With a rear peep and globe front that ain't too shabby if I must say so myself. Ed's recommendation to drop down to 60 gr of FFFg was spot on. A tad high at 100 put me 6" high at 50. This sight setting should put me dead on at 125.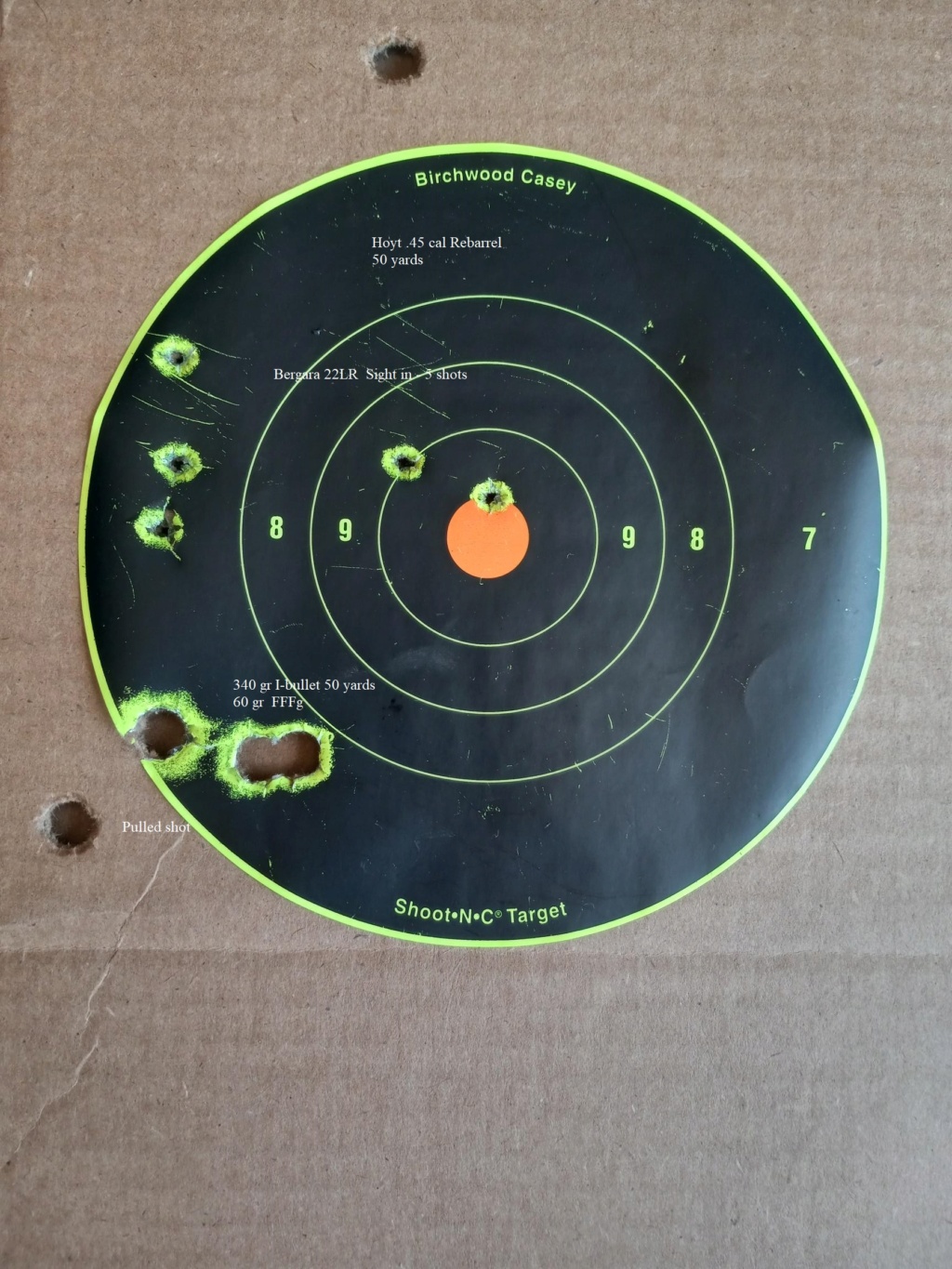 _________________
I am not in competition with anyone and have no desire to be better than anyone else. I simply try to be a better person today than I was yesterday.
PRAYER SHOULD BE YOUR FIRST RESPONSE - NOT YOUR LAST RESORT.
Women and cats will do as they please, and men and dogs should relax and get used to the idea.
My therapist asked me if other members of my family suffer from mental health. I told him "No we all seem to enjoy it!"

Bronko22000




Posts

: 372


Join date

: 2022-01-20


Age

: 69


Location

: Locust Gap, PA



EdMehlig, EasternOregon .50cal GPR, LR_Smoker and Lonewolf like this post
I'd be happy with that! The Deer won't.

EdMehlig




Posts

: 134


Join date

: 2021-11-26


Age

: 72



squattingdog and Lonewolf like this post
Similar topics
---
Permissions in this forum:
You
cannot
reply to topics in this forum