I cannot find a tang sight for my Ardesa Deerhunter 50 cal in South Africa.
Please advise which sight will be suitable and where to order from. Delivery will take quite some time, and I don't want to order the wrong type.
Thank you
Johan Smit

Johan Smit




Posts

: 22


Join date

: 2022-02-10


Age

: 84


Location

: Western Cape South Africa



squattingdog likes this post
I would give Lee shaver a call
He should be able to help you

EasternOregon .50cal GPR




Posts

: 93


Join date

: 2021-12-05


Age

: 31



squattingdog likes this post
Just google Lee shaver gun smithing

EasternOregon .50cal GPR




Posts

: 93


Join date

: 2021-12-05


Age

: 31



squattingdog likes this post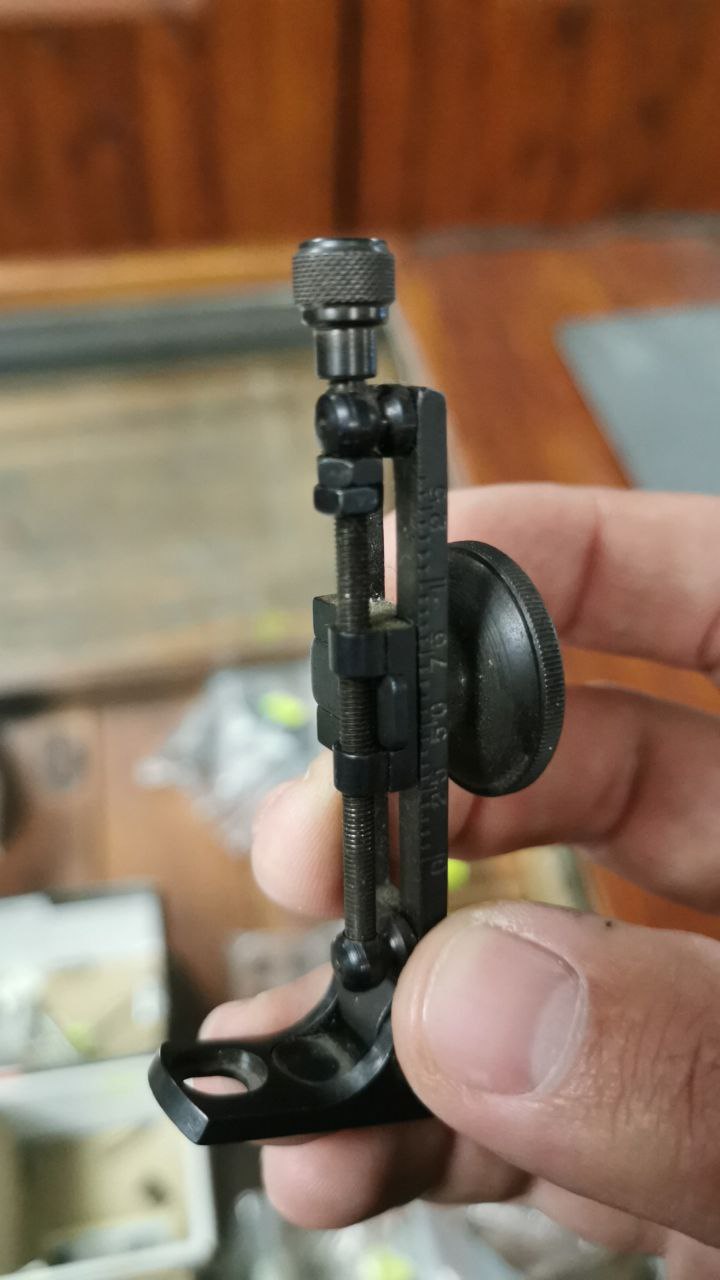 I found one at a gun shop that sell some muzzle loading stuff. I don't think it is the best for the Deerhunter, but at least I have one.
Now to mount it is something else. The Deerhunter has a very short tang, so presumably it has to be mounted on the stock. I don't really like the idea of weakening the stock, and I am unsure of the best eye distance to place it. Perhaps I can add a length to the tang. The upright angle is off, but I can correct that by filing the flat on the hinge. Also the hole is very small, not really suitable for hunting. Realistically, the Deerhunter is not a long range target rifle, but it shoots so well. I would like to use it for hunting up to at least 100 yards, but then of course I will be shooting it at paper targets and gongs. One has to play.
Really, the first question is if I should mount this sight or rather get one that fits the rifle better, perhaps from Lee Shaver.
Next is the eye distance.
Then the hole size.
Please help me out with these questions.
Best Regards
Johan Smit

Johan Smit




Posts

: 22


Join date

: 2022-02-10


Age

: 84


Location

: Western Cape South Africa



squattingdog likes this post
What ever you do make sure the peep is straight up and down so when you rise the peep sight up it doesn't shift point of impact side to side
You can get tiny drill bits to drill the whole out to the size you want, I drill from the back side forward so I don't bugger up the part you look at by mistake
I would set the peep sight far enough forward to comfortably grip the gun and mount it there

EasternOregon .50cal GPR




Posts

: 93


Join date

: 2021-12-05


Age

: 31



Johan Smit and squattingdog like this post
The Deerhunter is a carbine, I would opt for a ghost ring sight from Williams to install on the carbine and save that peep sight for a more suitable rifle. Check out the InvestArms Gemmer Hawken rifle.

George_Kelley




Posts

: 191


Join date

: 2021-11-29


Age

: 55


Location

: Murphy, Idaho



EasternOregon .50cal GPR, Johan Smit and squattingdog like this post
Yes, but such a nice hunting rifle. I like carrying it on a day in the veld, but my eyes are not the best for open sights at this older age. The ghost ring may be a very good idea. I will try to get hold of one. Thank you

Johan Smit




Posts

: 22


Join date

: 2022-02-10


Age

: 84


Location

: Western Cape South Africa



George_Kelley and squattingdog like this post
---
Permissions in this forum:
You
cannot
reply to topics in this forum